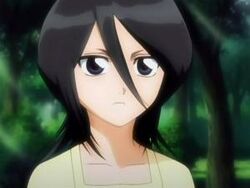 Rukia Kuchiki is a Shinigami friend of Ichigo Kurosaki, and one of the main protagonists in the series. She is the adopted sister of Byakuya Kuchiki and the sister of Hisana Kuchiki.
Appearance
Edit
Rukia is a very short Shinigami with peach skin and light-purple colored eyes. She has jet black hair that comes down to her shulders, with a piece hanging in between her eyes.
When performing her Shinigami duties, Rukia wears the standard Shinigami uniform.
Personality
Edit
Write the second section of your article here. Don't forget to add a category, to help people find the article.
Ad blocker interference detected!
Wikia is a free-to-use site that makes money from advertising. We have a modified experience for viewers using ad blockers

Wikia is not accessible if you've made further modifications. Remove the custom ad blocker rule(s) and the page will load as expected.